Despite urging Council/District to return to patrol competition camporees, it seems hereabouts recruiting and advancement weekends are taking hold.
Council/District Webelos Family Weekends have been around for awhile but troop older scout attendance has been low. How to increase older scout attendance? Advancement, of course, is the answer.

Hello Scout Advancement Weekend!
Here's an upcoming example from Gulf Stream Council
Scouts get a hands on experience while earning merit badges. We offer over 60 merit badge classes. Scouts can take an all-day class or two half day classes. Choices include:
Aviation, taught by a pilot and includes a visit to the airport and flight time
Engineering taught by an engineer from Sirius/XM radio
Environmental Science taught by an environmental science engineer specialist from Florida Dept. of Environmental Protection
Fire Safety, First Aid, Medicine, Crime Prevention, Emergency Preparation taught by doctors, nurses and professionals in the police, fire and paramedic fields
Music taught by a music professor from PBSC
Citizenship classes taught by lawyers
Woodworking taught by a master woodworker
New classes added this year! Bugling, Collecting, Traffic Safety, Fishing, Backpacking & more….
The Merit Badge counselors for all the classes are either employed in their field or are hobbyist in the class they teach. They have spent many hours preparing for their classes. Class sizes range from 8 scouts up to 50 per session. SAW gives each scout the opportunity to learn from the best and perhaps think of a career choice in the future.
Webelos Cub Scouts also join the older Scouts for the weekend to get the Boy Scout experience. Webelos will earn two Adventure Pins during SAW..They are offered a selection of five of their own classes, including Engineering, Build it/Fix it, Art Explosion, Into the Wild and Earth Rocks.
The Venturing Crews join us this year completing requirements for the Venturing Discovery Award.
Not to leave the adult leaders out, training classes will also be offered throughout the day. Choices could include Scoutmaster Specifics, Merit Badge Counselor Orientation, Introduction to COPE and core skill training such as campfire building, knot tying & more. Up to 15 classes run continuously, so Scouters can fit them into the day's schedule.
Scouters can join us for the whole weekend or just for the day on Saturday.
Scouts from all councils are welcome.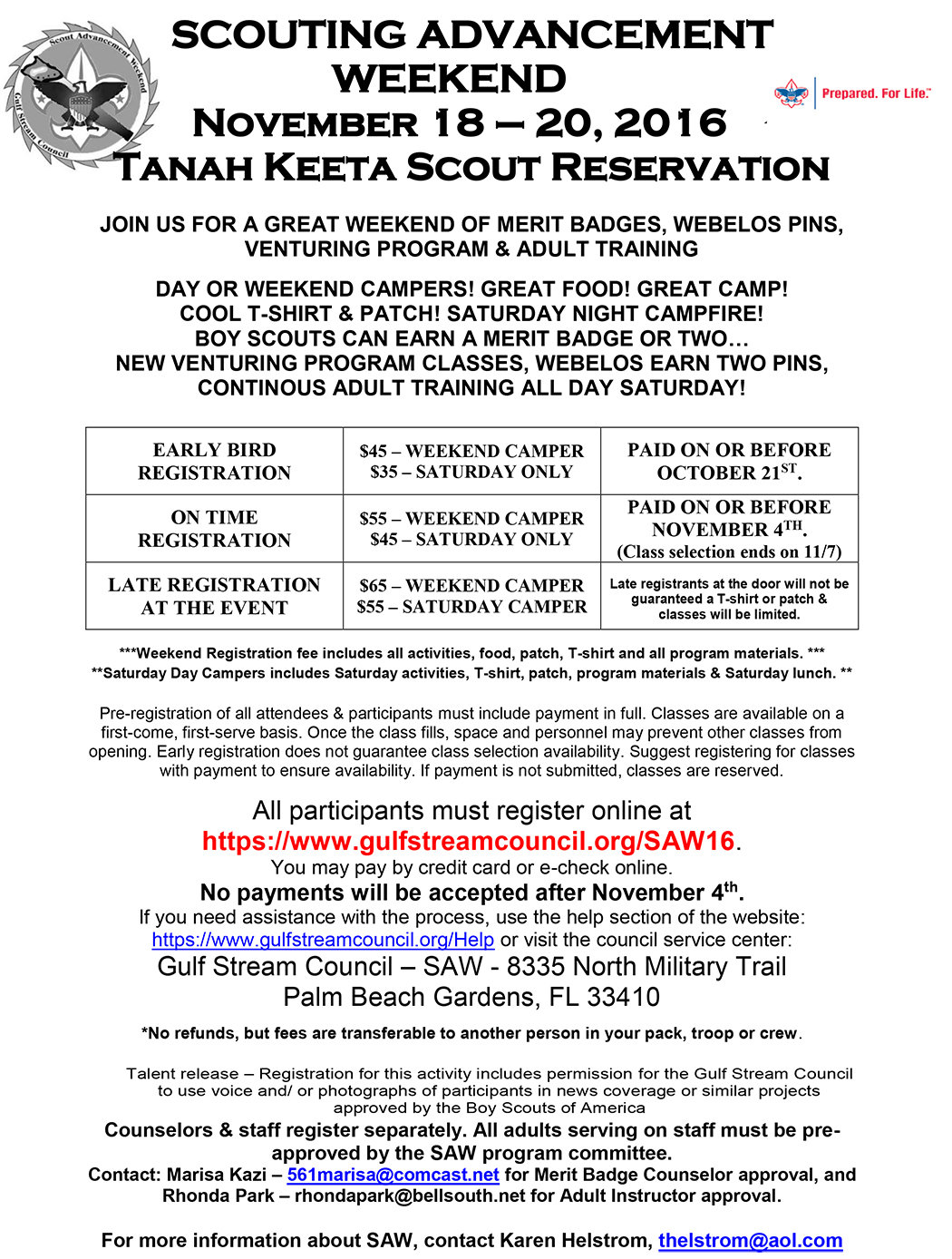 https://www.gulfstre...il.org/SAW_2016
All in one weekend? Seems over-scheduled and about as much fun as high school but I'm told Advancement is King.
My $0.02
Edited by RememberSchiff, 18 October 2016 - 07:40 AM.