http://patch.com/rho...-east-greenwich
Famous Tall Ship Arrives at its New Home in East Greenwich
Tall Ship Starbound has a storied history, has twice sailed around the globe and was once owned by Burl Ives.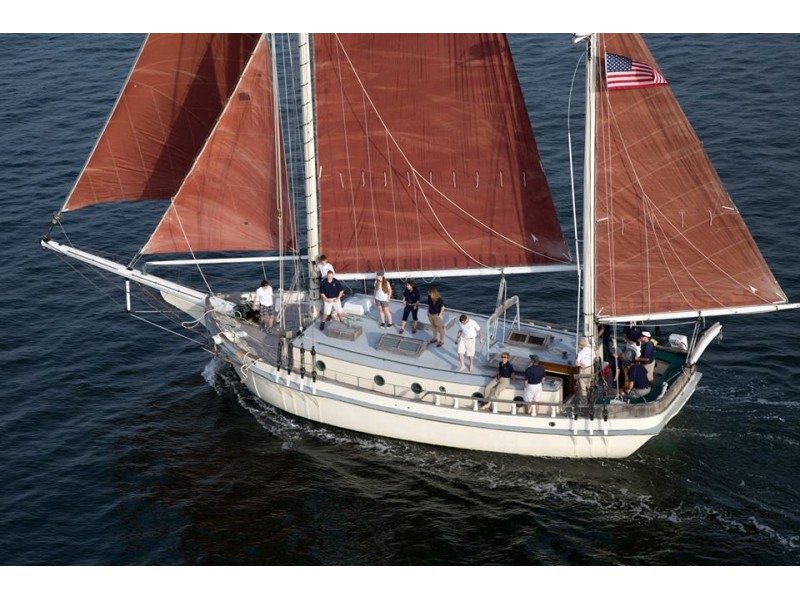 Starbound, a famous Tall Ship known for twice circumnavigating the globe, has recently completed a 225-mile journey from Maine to its new home here in Rhode Island waters.
Starbound, originally built in 1950, is undergoing inspection right now at Wickford Shipyard along with preparation for Coast Guard passenger vessel certification.
"As soon as weather permits, she will be sanded down to bare wood and refinished; taking on new sails and spars prior to arrival at her home port," said David Sylvestre of S.A.L.T.Y Foundation, a nonprofit that focus on youth education and adventure that currently holds a long-term charter of the 72-foot ketch.
That home port is Nortons in East Greenwich, where Starbound will serve as the primary vessel for Sea Scouts Ship 1909, part of the Boy Scouts of America. Other local youth groups have shown an interest in the vessel, including the Girls Scouts, Boys and Girls Club, Ronald McDonald House and Gold Star Kids, an organization that offers experiences for teens who have lost a parent in military conflict.
Starbound also joins the Sea Scouts local fleet of four other sailing and powerboats, including Golden Goose, a 40-foot Stadel schooner built in 1975 and donated by a Rhode Island family in February.
S.A.L.T.Y. now manages the largest youth-oriented fleet in New England and perhaps on the East Coast, save a similar fleet operated by the Boy Scouts of America in Florida. ( ?? So S.A.L.T.Y. is the CO for the Sea Scout Ship??)
Before Starbound is fully ready for her future adventures, some work is necessary.
Recent inspections to the vessel show that the original wooden mast and bowsprit have suffered age-related damage.
It's "an unexpected discovery that will call for a substantial fundraising effort," Sylvestre said.
A campaign is now in the planning stages and the target will be $80,000 to replace the masts, which will be designed to maintain historical accuracy and the vessel's beauty.
Details on the fundraising effort will be released in "the coming weeks."
Eventually, Starbound will be a common sight in area waters, including Narragansett Bay, Block Island and as far as Martha's Vineyard and Cutthunk.
Though it might not set sail for a global adventure around the world in the near future, the vessel still has plenty of adventures in store. It's befitting for a ship once owned by famed singer Burl Ives.
She was built in 1950 and based on Joshua Slocum's 36-foot Spray, which was made famous for completing the world's first solo circumnavigation in 1898.
In the 1990s, Starbound's prior owners funded a $650,000 renovation to the hull, deck and marine systems.
According to a release, S.A.L.T.Y.'s mission is to provide Seamanship and Leadership Training for Youths, through hands-on sailing experiences in some of America's most historical and beautiful sailing locations.
A sailor and retired RI business CEO, Capt. David Pickering, envisioned the S.A.L.T.Y. program while serving as committee chairman of Sea Scouts Ship 1909. Founded in 2014, S.A.L.T.Y. is led by a volunteer Board of Directors comprised of RI business people, sailing and scouting enthusiasts. Contact S.A.L.T.Y. at P.O. box 1557, East Greenwich, RI 02818.
added:
S.A.L.T.Y. has booked June 27 to July 3 for the first annual Sea Scouts Ship 1909 cruise aboard Starbound. Her little sister, the schooner Golden Goose, may participate as well. Possible destinations include Block Island, Cuttyhunk, and a stop at Martha's Vinyard. Stay tuned for further details.
https://www.facebook...73647516027356/